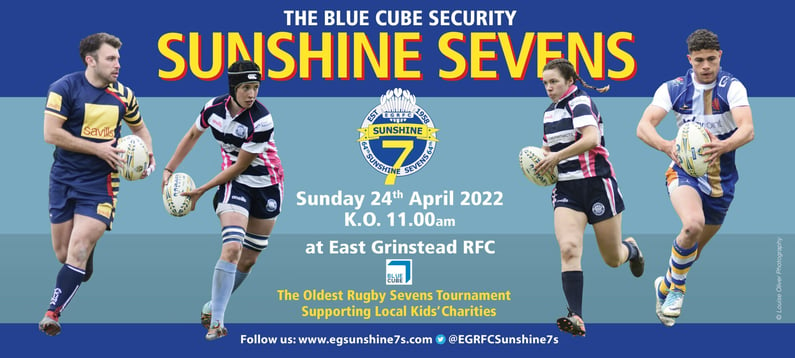 East Grinstead Rugby Football Club (EGRFC) are excited to host the 64th Blue Cube Security Sunshine Sevens on Sunday 24 April 2022, raising money for local children's charities.
The Sunshine Sevens is the longest running charity rugby sevens tournament in the UK and has been fundraising for over sixty-three years and Blue Cube Security are honoured to be sponsors of the annual event for the fifth year running.
Last year, the Sunshine Sevens Committee had the pleasure in presenting over £16,000 to the chosen charities, monies raised through two key annual events, the 63rd Blue Cube Security Sunshine Sevens Rugby tournament and the 15th Sunshine Sevens Golf Day. Both events had been delayed due to Covid, but eventually managed to be staged.
Garry Gordon, Chairman of the Sunshine Sevens Committee said: "We are really looking forward to our 64th Blue Cube Security Sunshine Sevens Rugby Tournament, a day that still attracts the top sides and is recognised as the first main event of the Sevens season.
Every year, the Sunshine Sevens Committee organises a wonderful rugby sevens feast which includes Elite, Men and Women rugby teams. It's a packed community sporting event that brings hundreds of people together, offering plenty of rugby, food trucks and bars. Helping Us – Help the Kids!"
Gary Haycock-West, CEO and Founder of Blue Cube Security said: "Being an ex-rugby player myself and part of the EGRFC's Executive team for many years, we are proud to be able to continue our sponsorship of the Sunshine Sevens once again.
With the profound affect that COVID-19 pandemic has had on local charities it remains more poignant than ever that we still continue to support them as we now push forward in learning to live with the virus and resume to normality.
Since the move of our headquarters into the building adjacent to the rugby club we are very privileged to be situated right at the heart of all of where all the action will take place and have become more acquainted with the hard work and effort of everyone that works behind the scenes in the planning and preparing for this annual event.
As always it promises to be an amazing day of thrilling rugby action with great food and live music – it's sure to be a day for all and one that is certainly not to be missed!"
The Sunshine Sevens Tournament will be held on Sunday 24th April 2022 from 11am at East Grinstead Rugby Football Club, Gearon Pavilion, Saint Hill Road, East Grinstead RH19 4JU.
Website: www.egsunshine7s.com
Twitter: @EGRFCSunshine7s