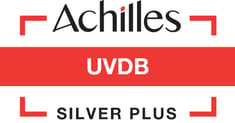 We are pleased to announce that we have recently become a fully registered and approved cyber security services supplier on the Achilles Utilities Vendor Database (UVDB).
The UVDB community helps to create business opportunities for suppliers in a collaborative, neutral environment whilst ensuring compliance to industry standards and reducing risks across the supply chain for buying utility organisations.
Blue Cube Security have completed the pre-qualification stages, and successfully demonstrated our capabilities in business-critical areas such as health and safety, quality assurance, supply management and data governance to meet the industry's requirements.
Through the UVDB community Blue Cube Security offers expertise in the below cyber security services and are not limited to:

Hardware services

Software support services

IT training

IT network services

Internet / intranet services

Telecommunications equipment associated services

Cyber security consulting or services
To find out how we can help you achieve the highest standards of supply chain assurance get in touch with us below or speak to us via our live chat at the bottom right of this page.