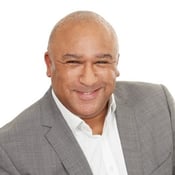 In the second of our two blogs about

Amazon Web Services (AWS)

, Irvin Shillingford at

Blue Cube Security

, discusses the vital interrelationships that come together with AWS to create bespoke cloud solutions and the key benefits for customers in leveraging AWS' cloud technology.
How does Blue Cube Security's relationship with AWS, software vendor partners and customers fit together?
'From a vendor management standpoint, we need to have an in-depth understanding of the power of the software vendors' technology and more importantly, how that applies to a customer's specific business challenges. We have two streams – firstly the technical competence stream which is the training, education, and knowledge transfer. Our professional and managed security services team, Cynergy, really understand the technology, how it's deployed and how it fits together with other technologies. On the flip side, we have the sales stream. There is so much great technology out there, but our customers need to know what that technology is going to deliver and how it's going to benefit their business and we're here to guide them through the myriad of options that are available to them.
We work together with AWS and the vendors, to deliver the best outcomes for our customers. There is no 'one size fits all' scenario. A typical customer solution will involve several different technology vendors, and our skill is bringing all those technologies together to deliver a truly bespoke business outcome. Obviously, at a high level, our customers face many of the same issues, but each solution is completely unique, and our goal is to make sure that everything adds genuine value and solves the customers' specific challenges.'
What are the main advantages for your customers of deploying AWS?
'We are really focused on security because that's our heritage and isn't going to change anytime soon. Ultimately, we are delivering a secure system cost effectively, which gives the customer the flexibility and agility to adapt as the demands of their business change.
With AWS there are a lot of benefits – we can deliver solutions really quickly, as there is no need to order hardware and deal with long lead times. You're also not in the situation where you've spent a significant proportion of your budget on equipment and then six months later realise you don't actually need it all or it's become redundant.
The cloud enables you to reduce infrastructure costs without introducing more risk to the environment. With AWS customers don't need to compromise on performance and can get all the functionality without the expense of physical systems and servers. You have the ability to scale up and down to suit your business needs, so it's really cost effective as you're only paying for the technology you consume.
One of the biggest benefits is that AWS supports agile decision making and the ability to change direction. If you want to leverage some new technology you can try it out with minimal investment, so it's a completely flexible platform for customers.
It's also important for our customers to know that AWS is one of the most secure cloud computing platforms that supports a host of international security standards and compliance certifications. The core infrastructure meets very stringent security standards required by global banks and government organisations, so they can feel reassured that their confidential data is securely protected.'
So, how would you summarise the benefits?
'At Blue Cube Security, we work with known and trusted technology providers. We're leveraging our existing partnerships and building upon those trusted relationships where we already have in-depth technical knowledge and we're applying it to the agility of the cloud to deliver significant and measurable benefits for our customers.'
If you missed the first part of this blog you can read it here or for more information on how we can help you with your AWS Cloud Architecture get in touch with us.